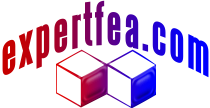 ---
LS-DYNA FEA files
---
Improve your LS-DYNA skills checking the seetings we used for these simulations!
ANSYS users wanting to solve the keyword files from LS-DYNA, access the Mechanical APDL Product Launcher and solve the *.k file as seen here. It helps if you have more physical cores!
If you are interested in running the FEA scenarios seen underneath, you can download their keyword files to see the settings we used for materials, mesh, contacts, loads, time steps, solver etc.
LS-DYNA solved FEA

LS-DYNA FINITE ELEMENT ANALYSIS - Shell car bodies crashing into a rigid truck

Click for video with results on

Get the LS-DYNA *.k file and 3D model for 14.5$


LS-DYNA FINITE ELEMENT ANALYSIS - Bullet perforating boxes

Click for video with results on

Get the LS-DYNA *.k file and 3D model for 14.5$


LS-DYNA FINITE ELEMENT ANALYSIS - Drop test of a ball on an elastic water slide

Click for video with results on

Get the LS-DYNA *.k file and 3D model for 13.5$


LS-DYNA FINITE ELEMENT ANALYSIS - Buckling of a C channel sheet metal

Click for video with results on

Get the LS-DYNA *.k file and 3D model for 13.5$


LS-DYNA FINITE ELEMENT ANALYSIS - Tensile test of a steel specimen

Click for video with results on

Get the LS-DYNA *.k file and 3D model for 12.5$


LS-DYNA FINITE ELEMENT ANALYSIS - Simulation of seat belt and dummy at 200g deceleration

Click for video with results on

Get the LS-DYNA *.k file and 3D model for 13.5$


LS-DYNA FINITE ELEMENT ANALYSIS - Perforation of a hollow steel sphere with a rigid one

Click for video with results on

Get the LS-DYNA *.k file and 3D model for 13.5$